Print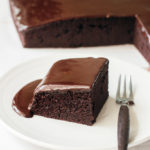 Chocolate Cake
Ingredients
Cake
1 3/4

cups

(245g) all-purpose flour

2/3

cup

(67g) unsweetened cocoa powder

1 1/2

teaspoons

baking soda

1/2

teaspoon

salt

1 1/2

cups

(300g) granulated sugar

2

large eggs

3/4

cup

(170g) unsalted butter, melted (or neutral oil, such as canola)

1

cup

(240 ml) sour cream or buttermilk

1

cup

(240 ml) hot water

Optional: 1 tablespoon rum or brandy

Optional: To enhance the chocolate flavor, dissolve 1-2 teaspoons instant coffee granules or espresso powder, or 50g dark chocolate in the hot water.
Chocolate Ganache Glaze
7

oz.

(200g) semisweet or bittersweet chocolate, finely chopped

3/4

cup

(180 ml) heavy cream
Instructions
Preheat oven to 350°F/180°C. Grease a 9×13-inch pan.

In a large bowl, sift together flour, cocoa powder, baking soda, and salt. Mix in granulated sugar. Set aside.

In a medium bowl, mix together eggs, melted butter/oil and sour cream/buttermilk (and rum/brandy if using). Whisk until smooth. Add egg mixture into flour mixture and mix just until slightly combined. The mixture will be thick and that's ok. Add the hot water and keep mixing just until mixture is combined. The batter will be lumpy at first, but mix gently and eventually stir with a whisk just until smooth.

Scrape batter into prepared pan. Bake cake for 30-40 minutes until a skewer inserted into the center comes out clean. Allow to cool completely on a wire rack.

To make the chocolate ganache: place chocolate and heavy cream in a medium heat-proof bowl, and microwave in 20-30 second-intervals, stirring in between each interval, until melted. Alternatively, set the bowl over a saucepan of simmering water, stirring occasionally, until melted. Pour evenly over the cake. Refrigerate for 1 hour until the ganache is set.

Cake can be kept in the refrigerator in an airtight container for up to 5 days.